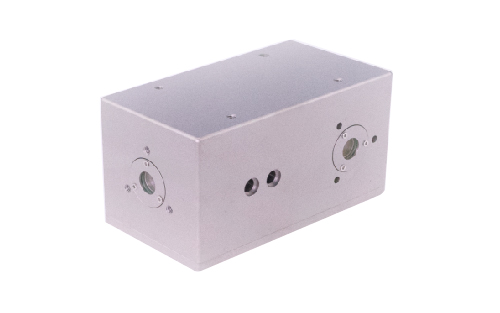 Description
Specifications
Principle
Download
Download
Product description:
Optical switch is a high-speed switch consists of phase modulator and polarizer. When an external voltage applied on the phase modulator, the so-called birefringence will be induced hence altering the polarization of light propagating the crystal at the polarizer. The polarizer will divide the light into two beams orthogonally as transmitted light and reflected light. The laser could be turned-on and turned-off quickly with response to the change of voltage.
CASTECH offers two types of optical switches as single-channel and multi-channels which utilize the highest quality crystals grown and processed at our site.
Single-channel type is characterized with high transmittance and high extinction ratio of transmitted light while easing the operation of adjustment.
Multi-channels type can control the switching between at least two beams and control the time of turning on & turning off of each channel respectively.
CASTECH also provides driver with rise/fall time up to nanoseconds matching our optical switches. Other spare parts like optical traps could also be integrated at will.
Applications:
● Laser industrial processing
● Beam splitting
● Frequency division
● Laser sensing system
● Ultrafast laser system
Inquiry List
Contact information
Basic information
Method of contact and profession
Copyright? CASTECH Inc. all rights reserved 闽ICP备12014619号